Mobile Dewatering, Solids Management, Lagoon Cleaning, Digester & Tank Cleaning, and Dewatering Equipment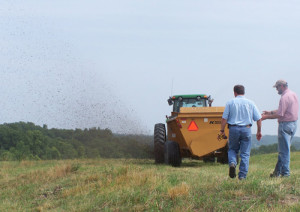 H&A Resource Management is a complete residuals and biosolids management company located in Versailles, Kentucky. H&A was formed in 1997 by the founding principle and key employees of an environmental consulting firm to better provide contract field services to municipal and industrial clients.
H&A offers a wide range of services from lagoon clean-out of water and wastewater treatment solids, mobile dewatering, and belt press sales to comprehensive turn-key land application programs. Our flexibility offers clientele a variety of cost effective options for specialized single event operations or full package, long-term programs that manage material from the point of generation through permitting and reporting. The goal of H&A is to offer cost effective flexible solutions that are difficult to find with other contractors.
We hope you find this site helpful in understanding the services offered by H&A. Please don't hesitate to contact us if you have any questions, or would like to schedule a site visit.